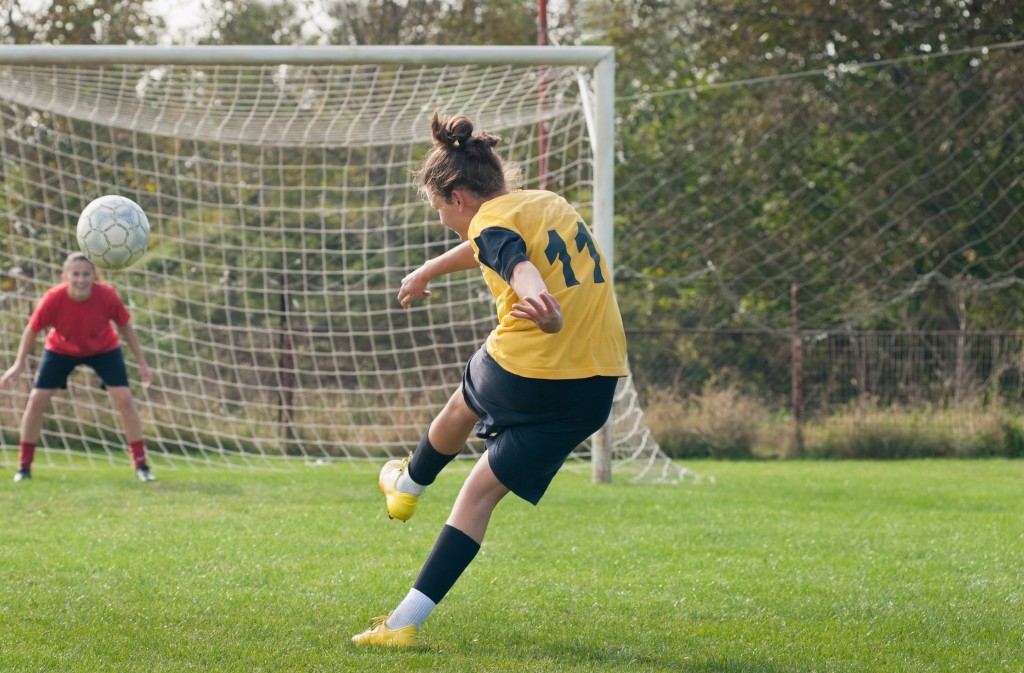 The curtain may have already gone up on the 2013 women's soccer season, but don't think for one minute you've missed out. This year saw the creation of the National Women's Soccer League, which includes some of the game's biggest names, and there's action to be enjoyed right up to August.
Nobody was more eager to get back into the fray than Western New York Flash player Carli Lloyd, who has been out of commission since March, thanks to a broken bone in her shoulder. However, while she made a triumphant return to the game, Boston Breakers Bianca D'Agostino, Chicago Red Stars Leslie Osborne, and Washington Spirit's Caroline Miller have been ruled out, thanks to injury.
Hitting Below the Belt
All three players have been sidelined thanks to injuries such as ankle stress fractures, sprains and a partially torn ACL. While they will say it's all part and parcel of the game (Osborne alone has battled various injuries over the years), there are those who suggest that women soccer players are more prone to lower-limb injuries than their male counterparts.
According to a 2007 report by the Journal of Athletic Training, "ankle ligament sprains, knee internal derangements, and concussions are common injuries in women's soccer" going on to reveal that the games themselves were more dangerous than practice sessions. One expert concluded that women were 2 to 8 per cent more likely to incur an ACL injury than men. The eyebrow-raising statistics don't stop there – another report in the same publication stated that female players suffered almost 70 per cent more concussions than men.
While there's no clear scientific reason why women should be more susceptible to concussion, the size of women's heads (the report pointed out that girls have about 26 per cent less mass in their heads and necks than boys) was listed as a possible contributory factor. The report also theorized that a greater number of concussions were recorded in the women's game because female players were quicker to report them.
While the remedy for concussion is rest, recuperation and regular check-ups, the same, however, can't be said for a broken bone, muscle tear or any other form of injury requiring more direct intervention.
The Hidden Dangers of Healing
Prescription medication is regularly used to help athletes recuperate from serious injury, and while such drugs have obvious physical benefits, they can also give rise to a different set of mental health problems. Any athlete suffering a long lay-off faces not only having to deal with the business of healing their bodies, but also avoiding the twin pitfalls of depression and dependence on the very painkillers they are taking to get well. It has already happened in soccer, and it's easy to see how. A professional player, desperate to secure their place on the team, runs the risk of overdoing things and causing a new injury during their rehabilitation. At the same time, the fear of not being able to play again can prompt a downward mental spiral and the painkillers become a coping mechanism – setting in motion a dangerous and sometimes deadly cycle. Ironically, soccer is being used in clinics from New Jersey to New York as a way of helping recovering addicts from all walks of life form stronger social bonds, boost their self-confidence and, as a natural consequence, improve their fitness levels.
Getting the Education Right
Although there is not always a straightforward reason for lower-limb injuries, especially in instances of ACL where there has been no obvious contact, the issue of poor coaching has come under scrutiny, with some quarters blaming a lack of adequate education and training for injuries. Does a player with mediocre running form, below-par fitness levels or a lack of core strength taking to the pitch know they stand an increased likelihood of sustaining ACL or lower-leg injuries if their coach doesn't teach them differently?
While NWSL professionals D'Agostino, Osborne and Miller are sure to get the best treatment for their knocks, it goes without saying that coaches – especially at the grass-roots levels of the sport – need to ensure their young players learn the best way to go into a tackle and how to safely turn while running, are up to speed on the right sorts of shin guards and understand enough about their playing environment to be certain of their players finishing the game in one piece.
This combination of solid training, top-notch fitness and a sound education could see future generations of women players taking to the pitch with a significantly reduced chance of injury – and that can only be great for the game.
By Jennifer Baker