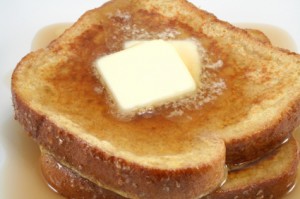 I've cut back on bread, potato and pasta. My muscles feel tired a lot. How many carbs do I need?
According to the International Olympic Committee's Nutrition Recommendations, adequate carbs means:
| | | |
| --- | --- | --- |
| Amount of exercise | Gram carb/lb | Gram carb/kg |
| Moderate exercise (~1 hour/day) | 2.5 to 3 | 5-7 |
| Endurance exercise (1-3 h/day) | 2.5 to 4.5 | 6-10 |
| Extreme exercise (>4-5 h/day) | 3.5 to 5.5 | 8-12 |
Example, a 150-lb soccer player doing extreme exercise should target ~500 to 800 g carb/day (2,000-3,200 carb-calories). That's about 500 to 800 g carbs every 4 hours during the daytime.
For optimal performance, your recovery meals and snacks should include a foundation of carbohydrate-rich foods (breads, cereals, grains, fruits, and vegetables) plus a smaller amount of protein (about 10-20 grams per recovery snack or meal). This can be hard to do if you are eliminating the most convenient sources of carbs—breads, poatao and pasta!  You'll need to eat a lot of  "heavy" fruits and vegetables (such as bananas, mango, dried fruits, beets, winter squash, sweet potato) to fulfill your muscles' needs for adequate fuel.
For your recovery meal, do not consume just protein, as in a protein shake or protein bar. Protein fills your stomach and helps build and repair muscles, but it does not refuel your muscles. Your muscles want three or four times more calories from carbs than from protein. If you like the convenience of protein shakes, at least add carbs to them. That is, blend in some banana and frozen berries.
For more information on how to balance carbs and protein: Food Guide for Soccer: Tips and Recipes from the Pros (www.nancyclarkrd.com) by myself and co-author Gloria Averbuch.