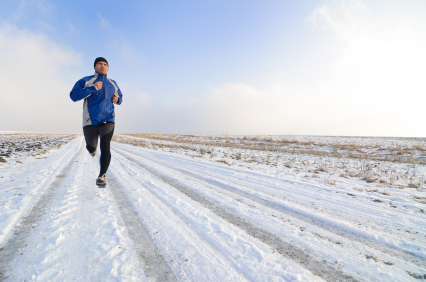 Runners are hearty individuals, who often can't bear to take a break—and certainly not for an entire winter season. You can go right on running in winter. Here are some tips to keep up your chosen activity.
Warm up indoors first with jogging in place, stair climbing or any other activity.
It might be uncomfortable, but it's a myth you will freeze your lungs. By the time the air you breathe in reaches your throat, just passing through your mouth warms it up to near your body temperature.
On intensely cold days, it is best to run at slow to moderate pace. If you do run fast, wear a face mask or neck gaiter over your nose and mouth to warm the air you inhale.
Change your goals. In better weather, you may have distance or time goals. During winter, decide to fashion your routine to simply maintain your "base." Chances are you can use the variety—physically as well as mentally.
Hats and face masks are essential for protecting your face, nose, and ears. Coat your face with specially made balm or petroleum jelly, and use a sunblock, since the rays can still come through during winter. Keep your feet dry, and wear moisture-wicking socks to assist in that effort.
For both snow glare and wind protection, consider wearing sunglasses.
Head into the wind at the beginning of an out-and-back run so you won't have that headwind on the way back, when you've likely worked up a sweat and can get chilled. If that's not possible, carry an extra layer to wear for the run back. Trails in wooded areas are best. In cities, try to find areas exposed to sunlight for some warmth.
Wear sturdier shoes, with decent traction, to avoid wet snow and excessive slipping.
Wear reflective gear in near-dark as well as dark.  If necessary, carry a flashlight.
Don't forget to drink plenty of water. You can become dehydrated without ever feeling particularly hot or thirsty.
Don't run if you are sick, particularly with throat or chest problems. The cold can aggravate these conditions.
Dress warm, but don't overdress. Dressing for 15 to 20 degrees warmer than it actually is will make sure you are not overheated after you warm up from running.
Here's a checklist of winter gear from website "Competitive Runner"
Some medium weight socks
1 pair of lightweight tights
1 pair of lightweight running pants
1 pair of medium weight tights or pants
1 pair of heavy weight tights or pants
A couple of CoolMax or similar racing singlets, or tank tops, or t-shirts
2 CoolMax or similar long sleeve shirts or turtlenecks
2 fleece pullovers
1 nylon wind shell
Light weight gloves
An old pair of heavy wool socks (for your hands) or mittens
CoolMax or light-weight fleece headband
Warm wool or fleece hat
Don't risk it if it's too brutal that you risk any benefit or your safety, slippery, not clear enough from traffic. If all else fails—or the thought of running in the cold or wet is just too unpleasant—there is always a treadmill.